50th Underwater Mining Conference
Sunday, October 02, 2022
to
Friday, October 07, 2022
Category: Events
---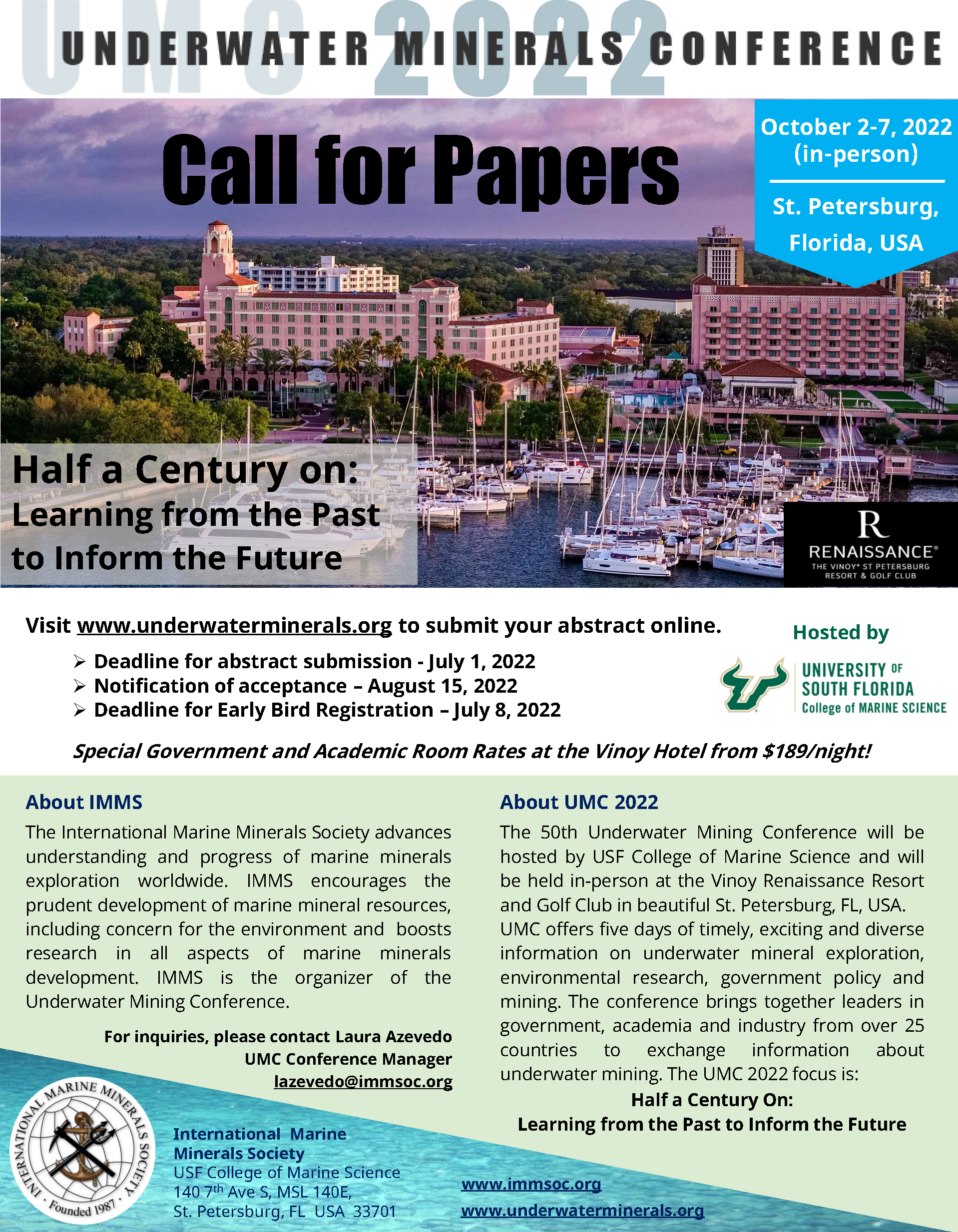 50th Underwater Mining Conference
October 2 - 7, 2022
The Vinoy Renaissance Resort & Golf Club
St. Petersburg, FL, USA
The International Marine Minerals Society (IMMS) in partnership with the University of South Florida College of Marine Science, will finally hold its 50th Underwater Minerals Conference (UMC 2022) from October 2 to 7, 2022.  The Conference will be held in-person at The Vinoy Renaissance Resort & Golf Club located in St. Petersburg, Florida, USA utilizing appropriate health and safety guidelines. The hotel management team at this Marriott property have presented the organization with a detailed plan which includes special attention to protocols for social distancing, food preparation, ultraviolet and electrostatic room disinfecting technology as well as allowance for spacing at conference events. 
UMC is the world's oldest and largest gathering of ocean mineral stakeholders. Since 1970 scientists and world leaders from government, academia, and industry have come together from over 25 countries to exchange information and ideas on all aspects of underwater mineral exploration, environmental research, and mineral extraction.
The UMC 2022 focus will be: Half a Century On: Learning from the Past to Inform the Future. Topics discussed will include geological and biological studies of marine minerals deposits and their associated biological communities, regulatory considerations related to mineral resource and environmental impact assessment, technological considerations related to scientific survey objectives and commercial recovery objectives, and general policy considerations related to the long-term development of these resources. More information: www.underwaterminerals.org
​UMC 2022 offers the networking opportunities, deep learning environment, and social activities that are customary and expected at our conferences.  UMC has been the "go to" conference for marine minerals scientific information exchange and stakeholders' networking for half a century and continues to lead and promote innovation in this community.
---