The Marine Technology Society has a structure that allows for leadership at the national and local levels, as well as in specialized subject areas.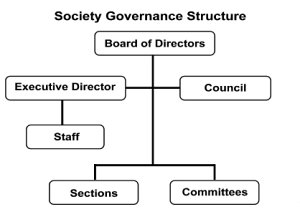 Board of Directors
The board comprises MTS members who are elected every two years by the membership. Vice Presidents serve a term of 3 years, except for the VP of ECOP, who serves a term of 2 years. Presidents serve a combined term of 6 years, with 2 years as President-Elect, 2 years as President, and 2 years as Past President.
The positions of the Board of Directors include: president, president-elect, immediate past-president, vice president of industry and technology, vice president of government and public affairs, vice president of education and research, treasurer and vice president of budget and finance, vice president of publications, and vice president of section affairs. The board meets at least twice a year, at the spring Offshore Technology Conference and the fall OCEANS conference.
Council
The Council provides advice to the Board of Directors on the technical, business and financial affairs of the society. The Council consists of the nationally elected Board of Directors, locally elected section chairs and those professional committee chairs who request a seat on the Council, and two student members.
Sections
Local sections focus on events and programs unique to their geographic areas, enhancing networking among local colleagues, businesses, universities and government/military offices. Each section has an executive committee composed of a chair, vice-chair, secretary and treasurer.
Professional Committees
MTS Professional Committees are technical interest groups that facilitate the exchange and transfer of technical information among professionals from academia, government and industry in specialized topic areas. Committee members present papers at technical forums and disseminate information through MTS publications.
Each professional committee has, at the least, a chair and may have additional executive members. Participation on the committees and nominations for committee chairs are open to all MTS members.
Bylaws & Financials

MTS is committed to transparency. Learn more about our financials, bylaws, and policies. Section and committee chairs will find useful information and checklists.