Women Leadership in Marine Technology and Science: Work Life Balance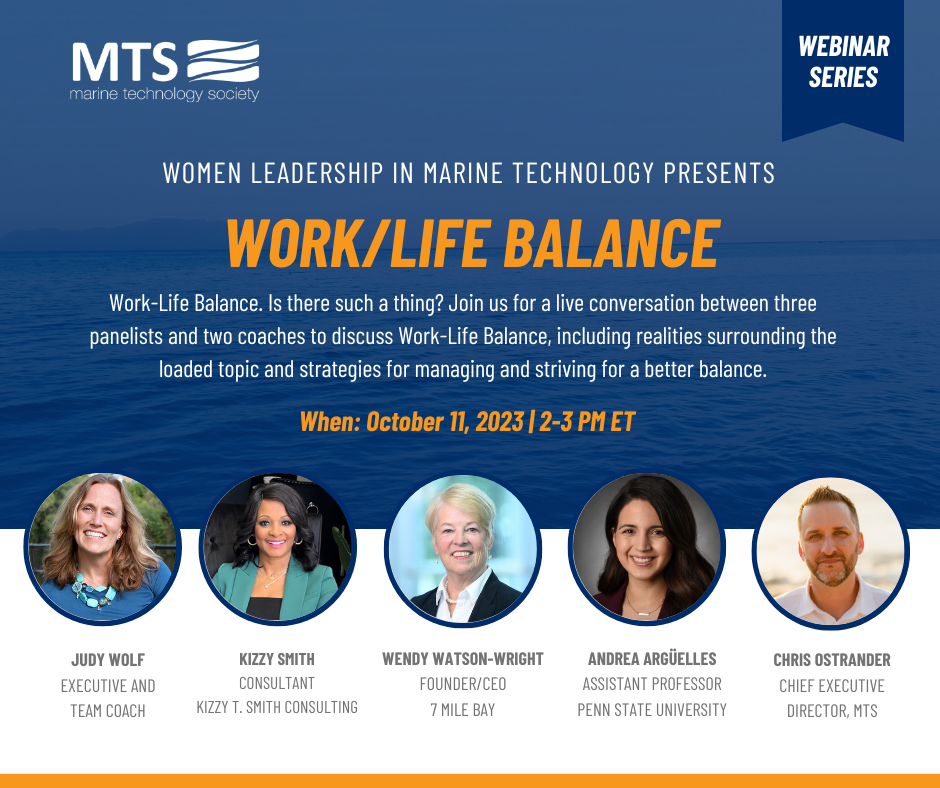 Description:
Work-Life Balance. Is there such a thing? Join us for a live conversation between three panelists and two coaches to discuss Work-Life Balance, including realities surrounding the loaded topic and strategies for managing and striving for a better balance. 
Date/Time:
October 11, 2023  |  2 -3pm ET
Panelists:
Judy Wolf, Executive & Team Coach
Judy Wolf is a professional certified coach (PCC) and team coach (ACTC) with senior practitioner credentials from both the International Coaching Federation (ICF) and European Mentoring and Coaching Council (EMCC). Judy partners with heart-centered, service-driven leaders, teams, and organizations to align actions with aspirations, strengthen communication and teamwork, and bring a whole-person approach to inclusive leadership and team development, conflict transformation, and being in relationship with other complex human beings. Her coaching style combines conversational, emotional, social, and somatic intelligence for a "whole person" approach to leadership, team, and personal development.
Kizzy Smith, Consultant – Kizzy T. Smith Consulting
Kizzy T. Smith is an accomplished HR professional with over 27 years of experience. She played an integral role in the opening phase of Pinnacle Entertainment's $368 million dollar project with responsibility for overall provision of Human Resources services. As Vice President of Human Resources, Kizzy was responsible for organizational development, strategic budgeting, compensation, diversity and inclusion, team member engagement, benefits, performance management, recruiting and staffing for approximately 1200 employees. Kizzy's HR experience dates back to the 1995, where she got her first start in the gaming industry as an HR Clerk for Player's Casino.
After retiring from the gaming industry in 2021, Kizzy launched KT Smith Consulting, LLC - an independent consulting company where she provides consulting for both small business operators and major corporations with a focus on Diversity and Inclusion Strategies.
Kizzy resides in Geismar, Louisiana with her husband Chris Smith. As empty nesters, they both enjoy traveling the world, learning about different cultures and making lasting memories.
Wendy Watson-Wright – Founder and CEO, 7 Mile Bay
Wendy was the first female Executive Secretary and Assistant Director General of UNESCO's Intergovernmental Oceanographic Commission from 2010 to 2015 and was the inaugural CEO of the Atlantic Canadian-led Ocean Frontier Institute, 2016 – 2019. 
Andrea Arguelles – Assistant Professor, Associate Head for Diversity and Inclusion, Department of Engineering Science and Mechanics, Penn State University
Dr. Andrea P. Argüelles is an assistant professor and associate head for diversity and inclusion in the department of Engineering Science and Mechanics at Penn State. Her research focuses on the use of ultrasound to understand internal structure in a variety of material systems. She is actively engaged with the acoustics community, most notably in her role as chair of the Committee to Improve Racial Diversity and Inclusivity in the Acoustical Society of America  
Chris Ostrander – Chief Executive Officer, Marine Technology Society
Chris Ostrander is an oceanographer and business development executive with 15+ years of experience building and leading complex organizations, advancing mission-driven partnerships, and guiding durable growth for a range of academic, government, and private organizations.
Prior to joining the Marine Technology Society, Chris served in a range of leadership roles at the University of Utah spanning technology licensing and commercialization, industry partnerships, foundation & corporate philanthropy, and research administration. Before Utah, Chris served as the assistant dean and director of strategic initiatives for the School of Ocean and Earth Science and Technology (SOEST) at the University of Hawaii at Manoa. While in Hawaii, he was the co-founder and director of the Pacific Islands Ocean Observing System (PacIOOS). He has launched three companies and helped entrepreneurs and institutions raise more than $450 million in research and philanthropic capital. 
Chris received his undergraduate and graduate education from the United States Military Academy at West Point (geography), the Johns Hopkins University (political theory), and the University of Hawaii (physical oceanography).