MTS India Section - Nanda Student Innovation Award
Marine Technology Society's India Section is pleased to announce the call for nominations for the second MTS NANDA STUDENT INNOVATION AWARD for 2023. 
Our beloved Late Mr. K. Nandakumar, Founder & Secretary of the MTS India section had been thriving to develop newer affordable technology and motivated students from schools /colleges to become involved in marine technology. To continue his dream, the MTS India section has proposed the annual MTS Nanda Student Innovation Award an Honorary and Respect towards his vision/mission and is also approved by MTS HQ.
The basic aim is to develop skills and conceptual thoughts for the career development of students and continue to engage them with MTS. This award envisages young talented youth to develop ideas into products that could be either hardware or software. This award will be for college students (UG and PG) to motivate in prototype development.
About MTS Nanda Student Innovation Award
Two awards (UG/PG) - Rs 20000 each (If found suitable both awards can be given to UG or PG Projects and decision of Jury is final)

Possible internship at Elektronik Lab India Pvt Ltd, Chennai

One year fee for student membership for MTS (USD 25).
Who is Eligible?

Indian students are eligible to apply, who are undergoing UG and PG programs from Engineering Colleges, with the guidance of faculty mentors working at Engineering Institutions. Project duration period of maximum of 6 months will be given.

Detailed Abstract of the project in 3 to 5 pages in MS Word format is to be sent to [email protected]. The detailed abstract should contain the following:
Project title in English explaining Objectives

Societal relevance

Methodology / Tools used

Project estimation

Acknowledgements from the Institution
Timeline:
Last date for Detailed Abstract of Submission: December 31, 2022

Intimation of shortlisted projects: January 05, 2023

Submission of Detailed Project Report: January 22, 2023

Project Demonstration: January 31, 2023

Final Evaluation and Result announcement: February 03, 2023
Co-coordinators:
Dr.J.Preetha Roselyn, Student Councilor- MTS India Section & Professor, Department of EEE, 

SRM Institute of Science and Technology, Kattankulathur.

Mr.D.Sivakumar, Secretary, MTS India Section & Vice President of Elektronik Lab India Pvt Ltd Chennai

Questions? please contact:[email protected]

Convener: Dr.R.Venkatesan, Chair, MTS India Section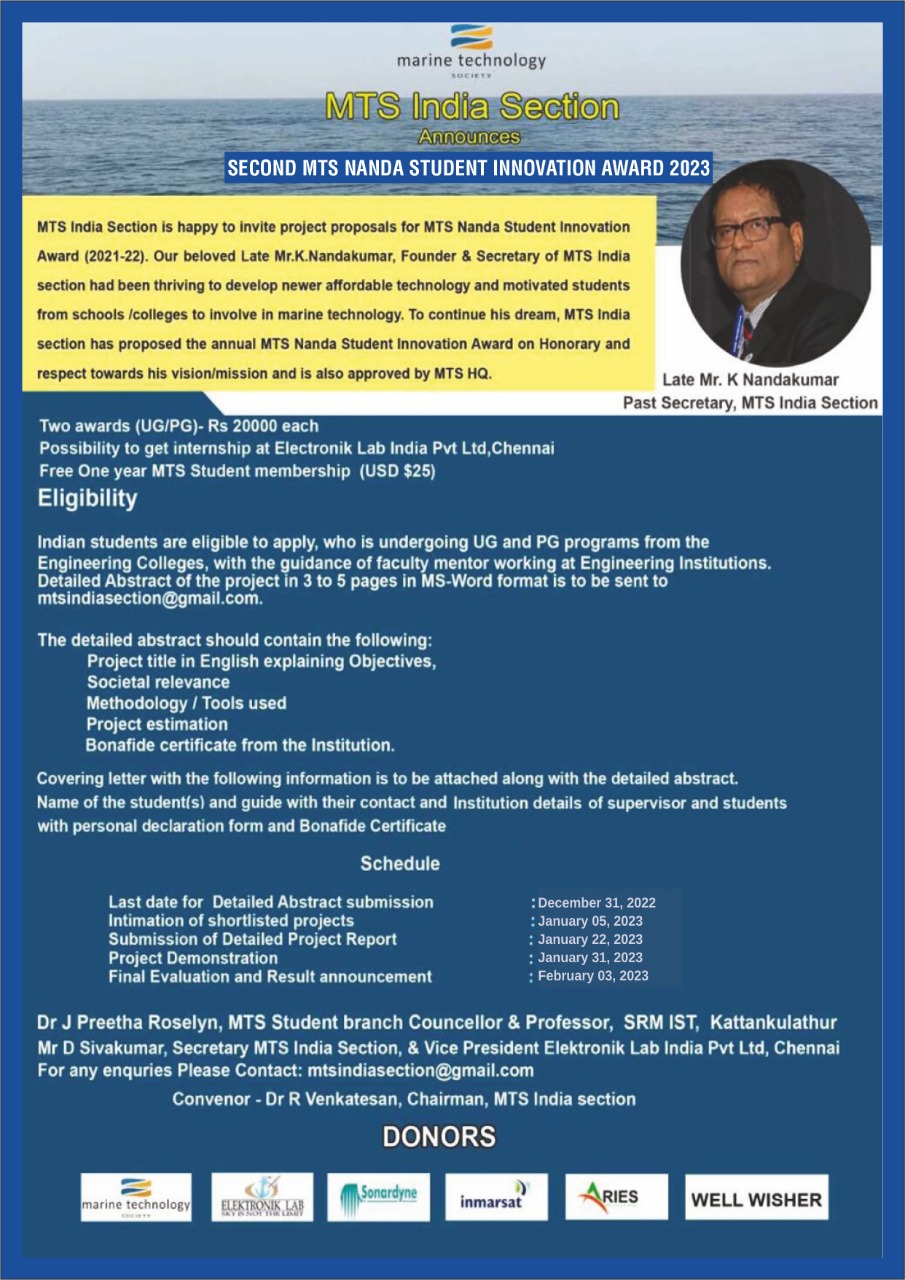 Share this post: